The 2022 Hart House Holidays Open took place in Toronto, Ontario, from December 9th – 11th, 2022, marking the celebration of both the upcoming holiday season, and the return of the Club's annual chess events. It was the first Holidays Open since 2019, and the Club's first major tournament since the 2020 Reading Week Open.
This year's event included some major changes compared to previous iterations, which allowed round 1 to start promptly on time at 6:30pm, and all other rounds being paired and on-time as well. Registrations began approximately 6-weeks before the event, and options for registration included in-person, telephone, online, and cheque, thanks to the system implemented by Hart House. Including withdrawals and forfeits, the tournament would've been close to 230 players, making it one of the most the Club has seen since the heydays of the 1970s.
Situated at the heart of the University of Toronto's campus, the Gothic Revival-style building of Hart House opened its doors to a diverse group of 212 participants representing all ages and skill levels, who came out to play in the tournament and take a shot at the $9,250 prize funds.
As tradition, the tournament was divided into six different sections based on ratings, and the games began! The winner in each section would be determined after 5 swiss style classical chess games (90 minutes + 30 secs. increment), with all sections being CFC rating, and the top 3 being FIDE rated.
Interestingly, the increased turnout wasn't reflected in the Crown Section (20 players), which usually would be filled with strong titled players. This year, this top section consisted of only 1 IM Nikolay Noritsyn and 2 FMs Allan Munro and Michael Dougherty. Max Chen, who has played in every Holidays Open since his first in 2014, finished first with 4.5/5, taking home the top prize of $1400. Max was buoyed with a victory over Noritsyn in round 3, who finished strong with 4/5 for clear second. Third-place was split between Max Rusonik and Ian Loadman, with Ian going undefeated with 3 draws and 2 wins.
In the Under 2200 Section (23 players), a three-way-tie for first was seen, with Jeffery Zhao, Vitaliy Reshetniak, and Noah Yuen, coming out tied with 4 points apiece. Vitaliy, playing in his first CFC-rated tournament, but with a high FIDE rating, lost to Jeffrey. Jeffrey took a first-round bye, and drew Noah. Noah's path to tie-first involved a draw with Ilia Bluvshtein and the aforementioned draw with Jeffrey.
In the Under 1900 Section (43 players), Larry Yang and Siddharth Narasimhan tied for first, with 4.5/5 apiece. With such a large section, they ended up not playing each other. Ali Shafkat started strong with 4/4, however lost to Siddharth in the fifth and final round to finish clear third. Fourth was a 7-way tie between Denys Melnychuk, Sean Liu, April Zhong, Irene Xie, Triston Li, Laksshana Deepak, and Nolan Wu.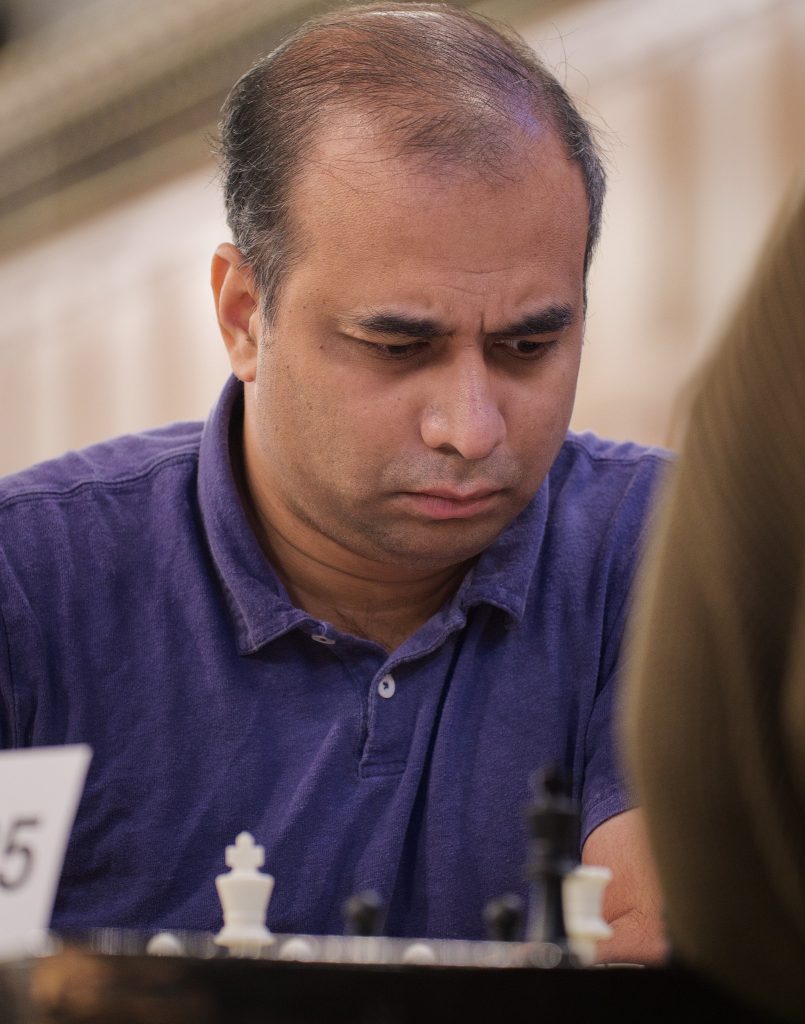 In the Under 1600 Section (55 players), Issac Duanmu, Daniel Botello, and Henry Vu finished with 4.5/5 and tie-first. Brendan Chan and Anthony Pham finished tied-4th. Interestingly, within these top-5, only 2 games were contested between themselves, with Issac drawing Brendan, and and Henry beating Anthony.
In the Under 1300 Section (39 players), Onur Naiboglu finished unbeaten with 4.5/5. Second place, 4/5 was shared between Slava Lukinykj, Mannan Attlee, Matthew Jung, and Daniel Stuekmann, the latter three who were playing in their first rated tournaments.
Finally, in the Under 1000 Section (32 players), Ethan Li finished with the only perfect score of the tournament with 5/5. Quentin Ma and Jacob Fischer finished tied for 2nd-3rd with 4/5. This section also saw the most unrated players, with a record 11 of the 32 players in the section playing in their first ever CFC-rated tournament!
Overall, the tournament saw over 30 new, unrated players playing in their first CFC rated tournament and over 20 students who took time out of their busy exam seasons to play. Seeing so many new players and students aligns with the Club's mission of promoting chess to newcomers and students.
Hart House Chess Club would like to express its thanks to certain individuals for their work in making this event possible. For over a decade, Tournament Director and Chief Arbiter Alex Ferreira has led this tournament during both the good times and low times. His hard work and diligence in making the event possible do not go unnoticed.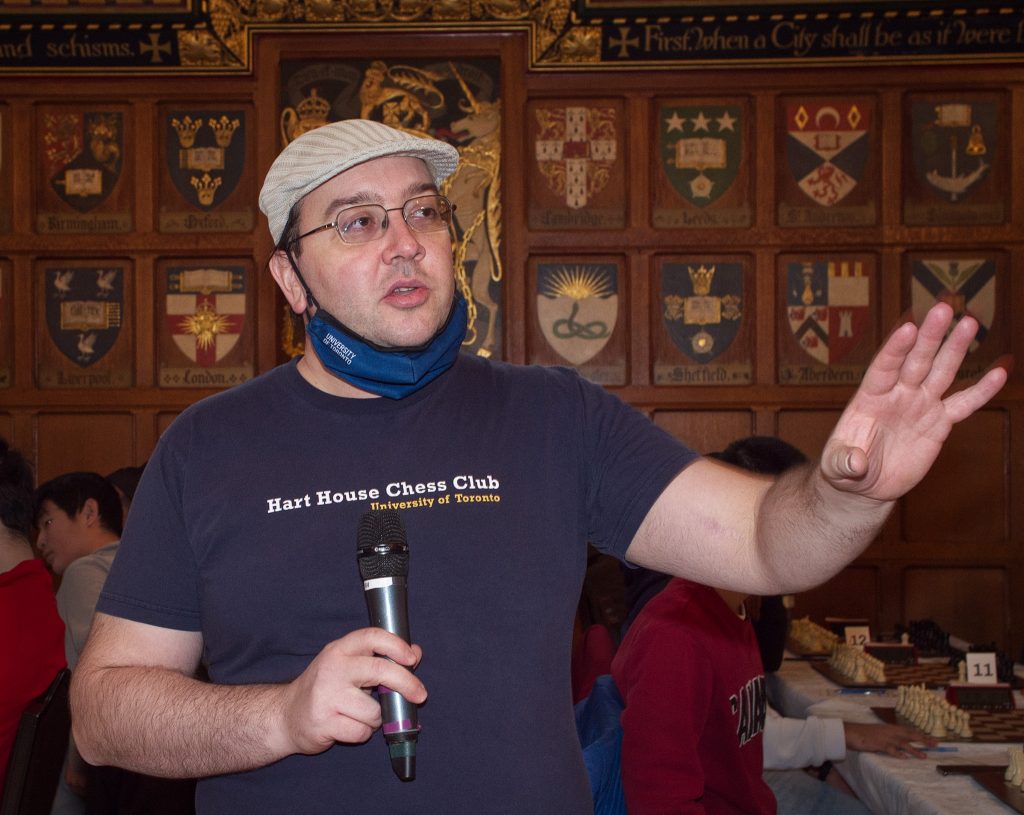 Next, we would like to thank the contributions of Victor Zheng, who helped keep track of the tournament pre-registrations, maintained the tournament webpage, answered emails, prepared/distributed signage and posters, maintained inventory, and set-up/took down the tournament playing hall. Crystal Cao, the Club's Treasurer, did an amazing job working with both the onsite cash and the online registrations. She maintained an eloquent spreadsheet of the tournament's financial accounts and helped navigate the prize payouts. Bowen Zhang, the Club's Fundraiser, helped with all areas of the organizing, in-particular, working with Crystal to ensure CFC memberships were paid, and also ensuring games were recorded. Tanner McNamara, the Club's secretary, swamped with his studies giving alcohol to rats, managed to make it to the tournament hall to provide important assistance and decision making. Ahmed Khalf, who had an astronomy final exam during the tournament dedicated important help in setting-up, recording scores, and answering questions for the tournament. Panagiotis Tsialis, a former HHCC Executive, played the always important role of photographer, capturing almost every player with individual chess portraits. Elliot Tseng, who had helped the Club with the Lending Library, also deserves a special shoutout for helping with the set-up and take-down of the tournament. Sean Lei, another past HHCC Exec helped with the Friday set-up, answering questions, and ensuring the smooth, on-time start of round 1.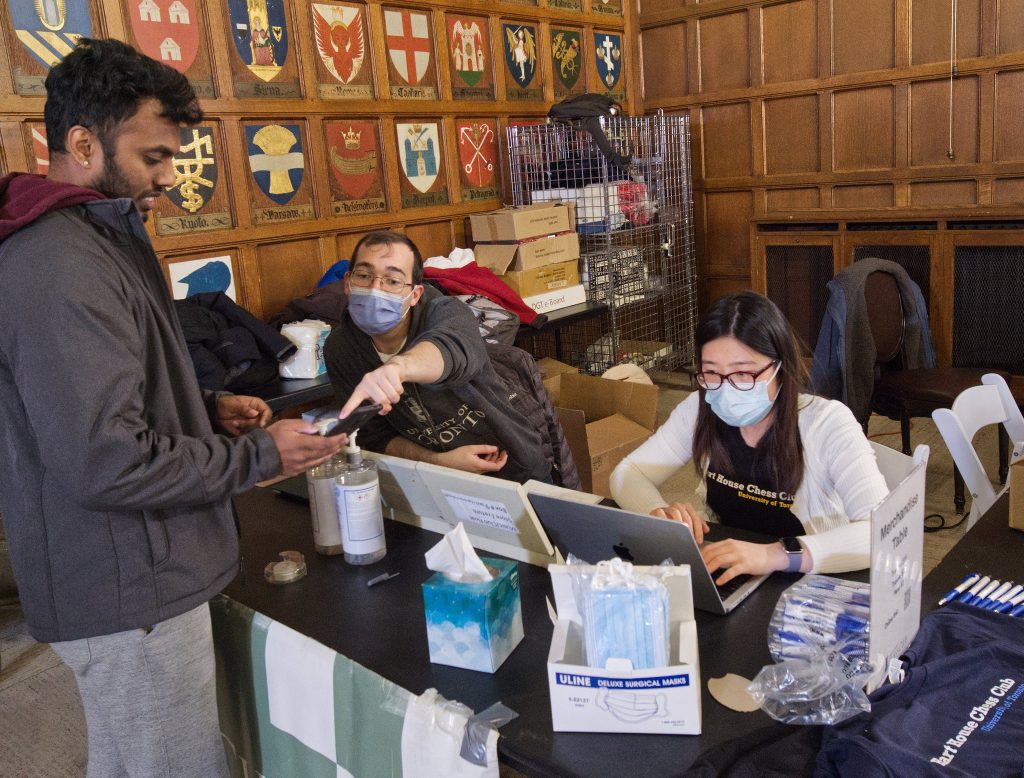 In addition to these volunteers, we would like to thank the University of Toronto as well as Hart House for their steady and continued support of our chess initiatives. The Hart House Information Hub with Jamie, Mauro, and Andrew provided invaluable assistance for registration and online-event setup. The Meetings and Events office with Madeline and Meghan, as well as the Staging Personnel, Department of Communications and the Financial Accounting Office coordinated their efforts to make the event possible. We wish to acknowledge their great assistance.
We would also like to acknowledge the generosity of the Annex Chess Club, who helped us supply enough chess boards and clocks to run the tournament without requiring many participants to bring their own.
Finally, the most important "thank you" goes out to the 212 participants who came out to play in the tournament, and to the friends, family, and supporters who came out to the tournament as spectators. It is with your support at these events that the Club maintains its liveliness and is able to continuously attract interest and maintain its 127-years of history. We are very thankful for your participation and are looking forward to seeing you again in our upcoming Hart House Reading Week Open, during Family Day Weekend next February.
Click on the links below to view: