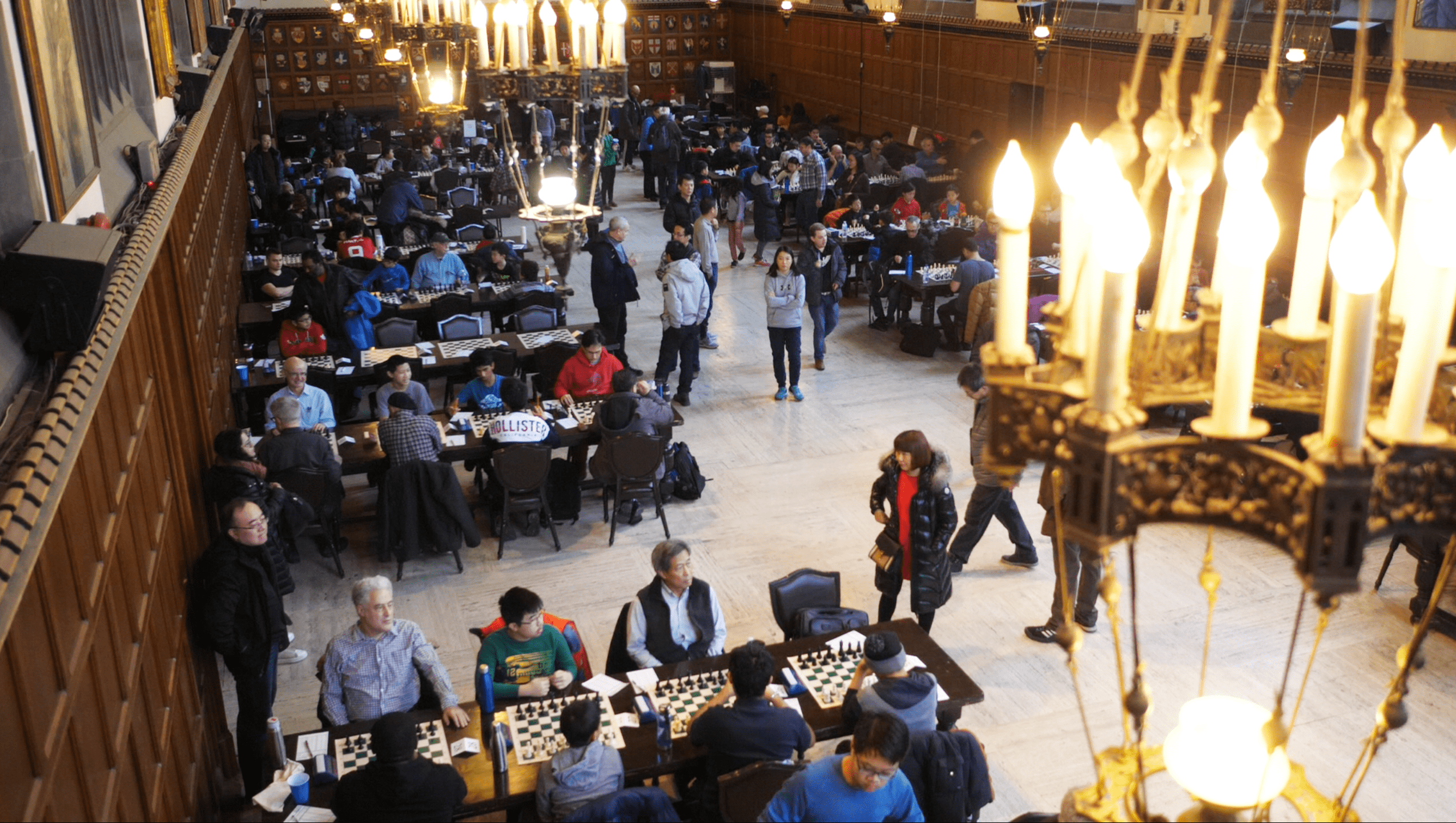 Hi everyone!
The Hart House Holidays Open Tournament is back December 9th – 11th this year! Join 200+ community members and students for this cannot-be-missed chess spectacle in the Great Hall. UofT students and unrated players receive a $35 discount. Early-bird registration is open until November 16th.
---
Event post:
We are delighted to share with the Hart House community that the annual Hart House Holidays Open Chess Tournament is back! We hope you will join us from December 9th – 11th at Hart House for the return of our annual flagship event. With five rounds in 6-sections for all skill levels, this is the perfect opportunity to play a competitive chess tournament. Official flyer.
INFORMATION
WHERE: Great Hall, Hart House, University of Toronto.
WHEN: December 9th, 10th, 11th.
SCHEDULE: Friday 9th at 6:30pm, Saturday 10th at 10:00am & 4:00pm, Sunday 11th at 10:00am & 4:00pm
TIME CONTROL: 90 minutes + 30 seconds increment from move 1, for all sections.
STYLE: 5 Round Swiss split in 6 rating sections – Crown (2200+), Under 2200, Under 1900, Under 1600, Under 1300 & Under 1000 Sections
PRIZE FUND: $8000 based on 200 entries
RATING: All sections will be CFC rated. Crown, Under 2200 & Under 1900 sections will also be FIDE rated. Crown Section will be paired using FIDE ratings.
FORFEIT TIME: Players who do not arrive within 30 minutes of the round start time will be forfeited.
BYES: Maximum 2 half-point byes in rounds 1-4 if requested in advance before the start of Round 1.
ORGANIZER: Hart House Chess Club with Alex Ferreira as arbiter.
EMAIL: hhtournaments@gmail.com
CAPACITY: 200 players in Great Hall, plus possible side rooms
TOURNAMENT NEWS
Dec 12: Congrats to all winners and thank you for participating at our event! We'll be contacting winners this week on prize distribution and ratings should be updated by Wednesday. The event report will go up this week. Photos taken during the event by former HHCC Exec Panagiotis Tsialas can be found here. Photos taken by the CFC can be found here.
REGISTRATION
Online registration is available until December 7th at 11:59 PM. In-person and telephone registration is available through the Hart House Information Desk during Hart House Hours.
Cash registration is only available onsite before 5:30pm on December 9th
Cheque registration (arrival by December 7th, 2022) can be made payable to The Governing Council of the University of Toronto, state Hart House Chess Club in description, at 7 Hart House Circle, Toronto ON, M5S 3H3. No post-dated cheques.
See this page for more details.
ENTRY FEES
$70 by November 16th at 11:59pm, $80 by December 7th at 11:59pm and $100 cash only on-site.
PLAYING UP
Extra $20 to play up a section (pay onsite before 5:30pm). Playing up is allowed only for players within 100 rating points of the section's minimum rating. For example, a player in the Under 1600 section wanting to play up in the Under 1900 section must have a rating no lower than 1500. Unless the fee is paid, players will automatically be placed in their appropriate section prior to the start of the tournament.
DISCOUNTS
$35 discount for University of Toronto students and unrated players (max one discount per player). Unrated players are not eligible for prizes. Free entry for IMs/WIMs/GMs/WGMs if registered by November 25th. Please email us for all discount information.
OTHER INFO
Please bring chess sets and clocks. HHCC will provide DGT boards for the Crown section.
Registrants must be current CFC members or bring payment prior to playing – https://chess.ca/membership-fees.
Withdrawals: see our Policies.
Unrated players should review our New To Tournament Guide
Parking is available at a daily rate of $10.
Free Wi-Fi will be made available.