Next Event: 2023 Hart House Holidays Open (Dec. 8-10, 2023)

We are thrilled to announce to the Hart House community that the annual Hart House Holidays Open Chess Tournament is back for another year! We invite you to join us from Friday, December 8th to Sunday, December 10th at Hart House for another edition of our annual flagship event. Featuring seven sections designed to accommodate all skill levels, this presents the ideal opportunity to participate in a competitive chess tournament.
INFORMATION
WHERE: Great Hall and East Common Room, Hart House, University of Toronto, 7 Hart House Cir, Toronto, ON M5S 3H3
WHEN: Friday-Sunday, December 8th, 9th, 10th.
SCHEDULE:

Crown, U2200, U1900, U1600, U1300: Friday 8th at 6:30pm, Saturday 9th at 10:00am & 4:00pm, Sunday 10th at 10:00am & 4:00pm
Juniors U800 and U1100 sections: Sat. 11 am, 2 pm, 5pm, Sun. 11 am, 2pm, 5pm.

STYLE:

5 Round Swiss split in 5 rating sections – Crown (2200+), Under 2200, Under 1900, Under 1600, Under 1300 using a 90 minute + 30 second increment from move 1.
6 round Swiss split in 2 rating sections – U1100 Juniors and U800 Juniors with a 30 minute + 30 second increment from move 1

PRIZE FUND: $8000 based on 200 entries
RATING: All sections will be CFC-rated. Crown, U2200, U1900, and U1600 sections will also be FIDE rated. The Crown Section will be paired using FIDE ratings.
FORFEIT TIME: Players who do not arrive within 30 minutes of the round start time will be forfeited.
BYES: Maximum 2 half-point byes in rounds 1-4 if requested in advance before the start of Round 1
ORGANIZER: Hart House Chess Club with Alex Ferreira as arbiter.
EMAIL: hhtournaments@gmail.com
CAPACITY: 220 players in the Great Hall and 80 players in the East Common Room.
REGISTRATION
Online registration is available until Wednesday, December 6th at 11:59 PM. In-person and telephone registration is available through the Hart House Information Desk during Hart House Hours.
Cheque registration (arrival by December 7th, 2023) can be made payable to The Governing Council of the University of Toronto, state Hart House Chess Club in the description, at 7 Hart House Circle, Toronto ON, M5S 3H3. No post-dated cheques.
ENTRY FEES
$70 by November 22nd at 11:59 pm, $80 by December 6th at 11:59 pm and $100 cash only on-site if space permits.
Junior only sections: $40 by November 22nd, $50 by December 6th at 11:59pm, and $70 cash only on-site if space permits.
U1100 and U800 Junior Section
Anyone U1100 or U800 will be added to the 2-day event with 30-minute + 30-second increment time control. Any over 18 players will be eligible to play in the U1300 section—no cash prizes for the Junior tournament, only trophies.
PLAYING UP
Extra $20 to play up a section. Playing up is allowed only for players within 100 rating points of the section's minimum rating. For example, a player in the Under 1600 section wanting to play up in the Under 1900 section must have a rating no lower than 1500.
No playing up to the Crown section. Players must be 2200+ CFC or 2000+ FIDE. In all other sections, requests to play up must be emailed to the tournament email by December 6th at 11:59 pm and then paid by cash before 6:00 pm.
DISCOUNTS
$35 discount for University of Toronto students (automatic) and unrated players (max one discount per player). Unrated players are not eligible for prizes. Free entry for IMs/WIMs/GMs/WGMs if registered by November 22nd. Please email us for all discount information.
OTHER INFO
DGT Boards: HHCC will provide 12 DGT boards for the Crown section. Games will be published online with a delay.
CFC ID: Registrants for all non-junior only sections must be current CFC members https://chess.ca/membership-fees. Payment should be done online. Unrated players should get a CFC membership prior to registering.
Withdrawals: see our Policies.
Unrated Players: Unrated players should review our New To Tournament Guide
Parking: Parking is available at a daily rate of $10-20; however is limited.
Photography: By signing up, you permit HHCC the ability to take and use photos from the tournament on its social media. If you would not like your photo used, please email us.
Wifi: Free Wi-Fi will be made available.
TEAM PRIZE: $400 ($100 per player), teams of 4 players, representing at least 3 different sections. All individual scores will be added up to find the winning team. Sign-up onsite.
Foreign Ratings: all participants must disclose all foreign ratings at time of registration or via email.
Accessibility and Visitor Information: Hart House is an accessible building and conveniently located. For further details, visit Visitor Information and Accessibility.
Contact:
Any question regarding the tournament, including registrations, must be sent to hhtournaments@gmail.com, not the Hart House Hub.
The Hart House Chess Club runs numerous significant tournaments annually, attracting hundreds of community members and visitors worldwide. This webpage aims to list the most up-to-date information about the latest Hart House Chess Club events. Our main website, harthousechess.com, will continue to be used for event promotion, Club announcements, and the Club's student outreach.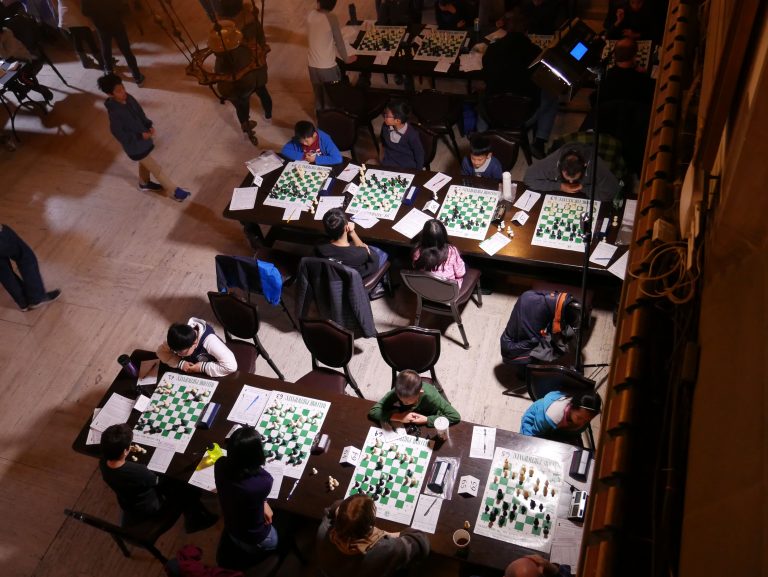 We are thrilled to announce to the Hart House community that the annual Hart House Holidays Open Chess Tournament is back for another year! We invite you to join us...
Read More